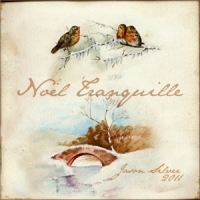 In November of 2011, I decided to buy a classical guitar. I'd always loved the sound of this instrument, but never owned one. The softer nylon strings lend themselves to a peaceful, folky music. Silent Night was a perfect example of how a melody and its chords could be sculpted out sweetly on the guitar.
Had to Record Something
The more I played around with it, the more I wanted to put together an album of just Christmas songs. I asked for people to give me their favourite carols and songs, and recorded about one per evening.
I also asked for suggestions regarding the cover artwork, and after a few days had reached a decision.
The final product is sort of "crowd built", and I am mostly happy with the results. There are some mistakes on some of the songs, especially the harder ones, but I like to think it lends to the rustic and real nature of the recordings.