2021
|
2020
|
2019
|
2018
|
2017
|
2016
|
2015
|
2011
|
2010
|
2009
|
2008
|
2007
|
2006
|
2005
|
2004
|
2003
|
2002
|
Thoughts and Reflections on Scripture
2020
February
Friday, February 14th, 2020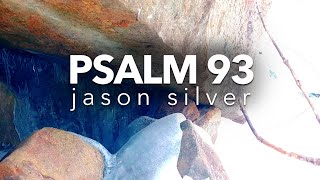 Related Song
Have you ever seen the strength of a flood carry away vehicles, uproot trees, or break down homes? Whenever I see things like this, I'm taken aback by how powerful water is, amazed at how nothing can stand in it's wake.

In verse three, the writer of Psalm 93 may be referring to the "floods" of the ocean, but as I stood quite a bit too close to this icy, roaring, waterfall, (more than a little nervous that I'd be carried away), I could see how the thunder of mighty waters mentioned in verse four is a good metaphor for the power and kingship of God.

Waters scour everything they touch, even eroding rock over time. Water is called the universal solvent, because it dissolves more substances than any other liquid. In the same way, when God moves in us, he dissolves our selfishness, he breaks down our stubbornness, he erodes our pride, our greed, our anger, and replaces it with the lubricating oil of his Holy Spirit.

Waters also cleanse and purify. Whatever needs washing, it is best done with water. Similarly, God washes away our sins, making us more like Jesus, the Messiah.

Just like the Holy Spirit, water is a critical and essential part of life. In fact, without water, there is no life! Water molecules play a key role in ensuring that proteins behave properly. Consider this: without the Holy Spirit, we can be sure that we will not behave properly.

Additionally, water satisfies our thirst unlike anything else. We may think we want more of some other beverage, but our body craves and needs water. How is this like God? Just as we all seek satisfaction in things other than His holy presence, in the end, it is in Him that we find our true satisfaction.

Jesus called himself the source of living water. What a great metaphor to describe the various workings of God's spirit in us to scour, dissolve, clean, purify, give life, and satisfy thirst!

Amen.